I'm back from vacation...if it can even be called a vacation. I'll be posting about my trip later on this weekend but today I want to talk to you about weasels. Specifically, the pencil-necked variety.
Having been on the endangered species list for several years now, a recent report proves what scientists have long feared--there is only one pencil-necked weasel left. It was spotted in Minnesota earlier this week, not by a scientist, but by a politician: Minnesota House Majority Leader Matt Dean (Rep.). Below is a rare photo of the last pencil-necked weasel: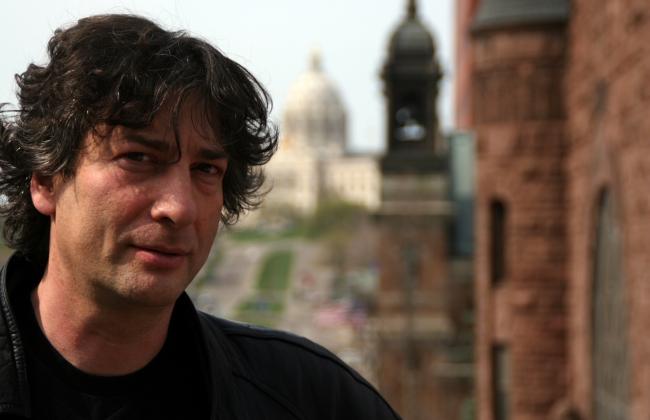 That's right, everyone. Neil Gaiman, long thought to be a member of the human race, is actually
Mustela pencilus-neckus.
Who knew?
Not sure what I'm talking about? A few days ago (when I wasn't near a computer and therefore couldn't talk about it until now) I was checking Twitter on my phone and saw that Neil Gaiman had tweeted about being on Matt Dean's hate list. This is a
link
to an article from the StarTribune about how Minnesota's GOP is fuming over funding for such evil things as Minnesota Public Radio and the arts. I personally shudder at the thought of money being carelessly thrown at useless things like that so I'm glad that people are finally taking a stand against programs and organizations that enrich people's lives. How dare money be spent on music and books? What is this world coming to?
Among the people and organizations that Republicans, especially Matt Dean, are railing against is Neil Gaiman, who Dean called a "pencil-necked weasel." Dean also revealed that he "hate[s]" Gaiman (direct quote, folks). Tell us how you really feel, Matt.
Matt Dean: Fighting the Good Fight
Gaiman's huge crime against humanity? He received $33,000 (Dean claims that it was $45,000 and that it wasn't received but was, in fact, "stole[n]") for a speaking engagement, money which he promptly gave to charity. According to Gaiman's
blog
, there were two charities, "a sexual abuse one and a library/author one." We already know that Republican lawmakers hate things like libraries and that they think that sexual abuse is something from a fairy tale so I guess I can see why Dean would hate him so much.
Gaiman tweeted several times about the incident, including revealing that later that day Matt Dean actually (sort-of)
apologized
to him...because, get this, his mother made him do it. I can just imagine how that conversation went:
Dean: Hey, uh, Neil, can I, um, talk to you a minute?
Gaiman: Sure, Matt, what can I do for you?
Dean: (looking sheepishly at his shoes) I'm...I'm really sorry for a what I said. You're not a weasel and I shouldn't have said that.
Gaiman: Wow, um, what made you change your mind there, Matt?
Dean: (trailing a sneaker through the dirt) My mommy said that if I don't have anything nice to say I shouldn't say anything at all. (big pause) But I still think you stole money. And that you're a big doo-doo head.
Its a sad day in America when politicians can act like playground bullies. It's an even sadder day when talented authors have to defend themselves against childish name-calling.
Here's Gaiman on being a
"political football
", an MPR News article on the
incident
that includes the speech in question (scroll down to #2), and an
article
from the Huffington Post.
I apologize if this issue has been flooding your blog feeds but I haven't had a chance to talk about this yet and, as Gaiman is one of my favorite authors, I felt the need to get the word out there.
-Gabe