The Blue Bookcase
is once again hosting the
Literary Blog Hop
. This week's question is:
Talk about one author that you love and why his or her writing is unique. Please be specific.
My answer: There are about a million authors I could use to answer this question: Mark Danielewski (who's incredibly unique), Neil Gaiman (who I'm sure you're sick of hearing about), Anthony Burgess (who I'll be talking more about next month), etc. I've decided to talk about Irvine Welsh today.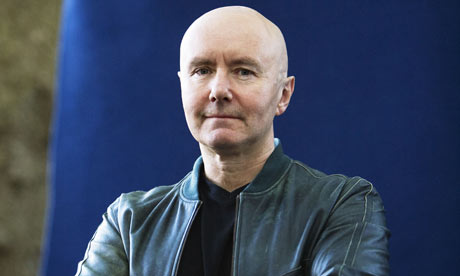 I've only read one of his books, which is
Trainspotting
, but I'm obviously going to get around to reading his other novels, especially
Porno
, which is the sequal to the aforementioned book. There are several things about Welsh's writing in
Trainspotting
that not only make him unique, but that also make me excited to read his other works.
Use of non-linear time
Trainspotting
isn't a book in the normal sense of the word. It doesn't start at the beginning and then progress through to the end. Instead, it moves forward, goes back, turns sideways, flips upside down. In short, it's a book that keeps you on your toes. There is a slight progression at times and the time frame in which the book occurs isn't incredibly long, perhaps a year or two, but for the most part you can never quite be sure of
when
you are. In Welsh's deft hands, this use of time isn't clumsy at all. It's well-crafted and keeps you interested in the story.
"I cannae listen tae this gadge!"
No, I didn't just have a stroke. Irvine Welsh writes
Trainspotting
almost completely in dialect...and it's not always the same dialect. The story takes place in Leith, Scotland, a working-class industrial town with many uneducated people. The dialect is sort of low-class and is heavy on slang, which can make it hard to follow. My copy of the book had a glossary in the back and after a while I only needed to look at it for new words. The rest of the dialect started to make sense to me pretty early on, sort of like the use of Nadsat in Anthony Burgess'
A Clockwork Orange
. The sentence in bold up above says: "I can't listen to this guy!"
Who the heck was that and why haven't they shown up again?
Welsh's novel has several main characters: Renton, Sick Boy, Spud, and, my personal favorite, Begbie. But there are other characters that pop up from time to time, some that have whole chapters devoted to them who are never seen again. The narration shifts from first person to third person and jumps from one character to the next, sometimes in the same chapter. Each chapter is a sort of short story, although some of them connect with earlier or later chapters, while others are simply stand-alones. Some give information about the main characters, while others provide context about Leith, the people, the culture, the poverty, etc. Some, in fact, seem to just sort of be there randomly.
Welsh is a superb writer, but he's a writer that takes a bit of getting used to.
Trainspotting
is definitely a challenging read, but it's so well-crafted that you don't mind the effort that it takes you. For me, reading this book meant speaking it out loud so that I could try and understand what they were saying in dialect. Others find the subject matter--drug addiction--to be what challenges them. Regardless, this is one book and one author that are worth looking into. Its dark humor, interesting characters, and unique way of telling a story make it one of my favorite books of all time.
-Gabe