Good morning!
Today and tomorrow I will be participating in the
Spring into Summer Read-A-Thon
, hosted by
Squeaky Books
. It started at 8:00 this morning, but I decided to sleep in a little, so I'm just joining in now.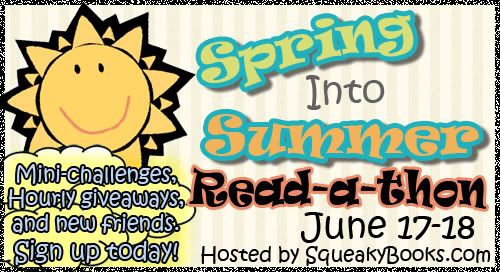 What do you hope to read during the Read-a-Thon?
I have four books that I'm planning on reading (in no particular order).
*
The Adventures of Tom Sawyer
by Mark Twain
*
Out of the Silent Planet
by C.S. Lewis
*
Fragile Things
by Neil Gaiman
*
A Clockwork Orange
by Anthony Burgess
What book are you starting with?
The Adventures of Tom Sawyer
by Mark Twain.
I hope to read
for most of the weekend. I have a few small things that I have to do here and there, but I'd like to be reading continuously otherwise.
Where are you going to read?
In my apartment mostly, although I'll be going outside onto my porch for frequent cigarette breaks as well.
What will you include in your updates?
-Hours read _____
-Pages read _____
-Books read _____
-Current mood _____
-Whatever else I feel like saying
Good luck to everyone participating!
-Gabe